<!!--INSERT TEXT BELOW--!!>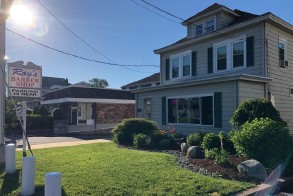 Roy's Barber Shop has been serving the local community for 0ver 60 years.

Founded by Roy Stull, who ran the shop for 39 years before retiring in 1989, Roy's Barber Shop is run by sons Kevin and Jeff who have more than 55 years of experience combined.

Roy's Barber Shop is a second-generation barber shop that was established in 1950 at the corner of East State Street Extension and Nottingham Way in the heart of Mercerville, New Jersey. In 1958, Roy's moved across the street to its present location at 2649 Nottingham Way, directly across From Our Lady of Sorrows church.

Roy's Barber Shop offers discounts to senior citzens, families and weekly customers. We specialize in young children's haircuts, offering 'First Haircut' certificates as well as pictures of the experience. We have patience for your special-needs child.

If you are looking for a real barber shop experience, this is the place for you. We finish every adult haircut with a hot lather shave around your ears and neck. Your haircut will be given by the same two barbers all the time.


Ample parking in rear


Sorry, no credit cards accepted.